Cascade Sports Car Club has been a meeting place for car enthusiasts of all types Since 1956. We have activities and events for all kinds of cars and drivers. We welcome all makes of cars and the enthusiasts that drive them.
Huge Congratulations and Thanks to Signa for her stellar job with Dash for Kids this year!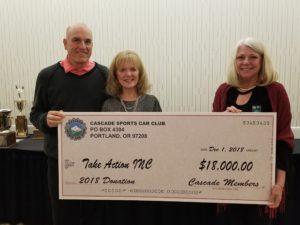 Cascade Sports Car Club Charitable Giving
In 2018 CSCC gave a total of $26,280 to charities supporting children in our community.  Take Action INC received $18,000. Doernbecher Children's Hospital received 3 bags of toys donated by members and $1500 of gift cards. Community Transitional School received $6780.
If you're interested in becoming a better driver and getting out on Portland International Raceway in your car with a highly trained instructor click HERE or on the "Trackday / Driver Training" menu above. You don't need any prior track or racing experience. Just the desire to become a better driver – we'll do the rest!
If you're interested in becoming a race car driver click HERE, or on the "Racing" menu above. We'll guide you step by step on getting your racing license, what races we host and after race results. We also have a lively discussion FORUM for you to discuss everything race related.
We also have a rally group if you're interested in "TSD" (Time / Speed / Distance) events. These are held on public roads and are all done at legal speed limits. Accuracy is king (down to the hundredth of a minute!), so pair up with a navigator and be ready to catch every minute detail. Learn more HERE or click on the "Rally" menu above.
In addition to our driving programs we host social events for our extended motoring family. We love getting together to share stories (not only about cars!). Click HERE or on the "Calendar" menu above to see what's coming up.
To become a member click HERE or go to the "Membership" menu above (where you'll find all sorts of member information), and welcome to the family!
Loading Videos...
Please Take A Few Minutes To Visit Our Sponsors. Their Support Is What Makes It All Possible.