Cascade Sports Car Club has been a meeting place for car enthusiasts of all types Since 1956. We have activities and events for all kinds of cars and drivers. We welcome all makes of cars and the enthusiasts that drive them.
It is with a heavy heart we say farewell to one of the finest people, talented drivers and cornerstones of the PNW racing community. Rest in Peace Gary.

Please join us for a celebration of his extraordinary life: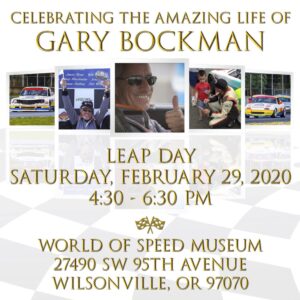 Our 2020 schedules are up. Check the racing or HPDE pages to see the dates.
It's going to be a great year with all the usual terrific racing and HPDE days, as well as some new ideas we're discussing. So, get working on your car – the season will be here before you know it!

What We Do
Track Days / High Performance Drivers Education
If you're interested in becoming a better driver and getting out on Portland International Raceway in your car with a highly trained instructor click HERE or on the "Trackday / Driver Training" menu above. You don't need any prior track or racing experience. Just the desire to become a better driver – we'll do the rest!
Interested in Racing ? Outstanding! Let us help
If you're interested in becoming a race car driver click HERE, or on the "Racing" menu above. We'll guide you step by step on getting your racing license, what races we host and after race results.
Road Rally? We've Got You Covered There Too
We also have a rally group if you're interested in "TSD" (Time / Speed / Distance) events. These are held on public roads and are all done at legal speed limits. Accuracy is king (down to the hundredth of a minute!), so pair up with a navigator and be ready to catch every minute detail. Learn more HERE or click on the "Rally" menu above.
Get Together With Other Like Minded Automotive Enthusiasts
In addition to our driving programs we host social events for our extended motoring family. We love getting together to share stories (not only about cars!). Click HERE or on the "Calendar" menu above to see what's coming up.
Let's Get You Signed Up
To become a member click HERE or go to the "Membership" menu above (where you'll find all sorts of member information), and welcome to the family!
Loading Videos...
Please Take A Few Minutes To Visit Our Sponsors. Their Support Is What Makes It All Possible.